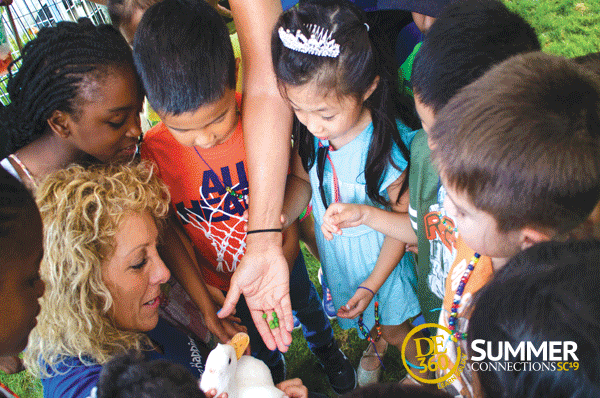 D-E 360° View: Summer Notes Edition
Dear Friends, Welcome to D-E 360° View: Summer Notes Edition, the e-newsletter for D-E 360°. D-E 360° is centered on learning boldly for all seasons. What we've built with our year-around programs is an opportunity for learners to engage in active learning Read More
Enjoy video vignettes from Summer Connections 2018
here
!
Summer Connections Countdown
The start of D-E 360° Summer Connections (SC) 2019 is less than two weeks away! Catch our SC Countdown Clock here and register today! $150 saves your seat.
Schedule your best summer ever: For a quick snapshot of Schedules for all our SC 2019 programs, including our Immersives as well as our Enrichment, Academic Enrichment, and Scholars offerings, reference our D-E 360° Summer Connections 2019 Schedule Grid click here. Important, please note that this Schedule Grid is subject to change.
For a schedule of all our most current offerings use our handy online Scheduling Tool click here.
Immersive Programs Provide "Deep Dive" Learning
D-E 360° Summer Connections (SC) 2019 Immersives are for students in Grades 2-12. From arts and entrepreneurship to STEM and "Wall Street & You" — SC 2019 Immersives provide exceptional opportunities to learn from master level faculty and generally range 1-2 weeks in length, giving students a "deep dive" in new educational experiences!
Computer Science Fundamentals is for Grades 5-8 (July 29 – August 2, 2019). Learn the basics of computer programming including the study of programming concepts, computational thinking, digital citizenship, and the development of interactive games. This express course is a great intro for any student wanting to take computer design and coding in high school! Instructor Dr. Paul Feffer is currently the Science Department Chair at the Storm King School, where he also teaches physics and computer science. Dr. Ericka Collado is currently on faculty at the Lower School of Dwight-Englewood and teaches Spanish and coding. She is also an adjunct professor at New Jersey City University. Click here for Immersives details and register today!
Heading for Broadway for Grades 7-9 (July 8-July 19, 2019) and Heading for Broadway for Grades 4-6 (July 22 – August 22, 2019). Does your student dream of taking the stage in a musical theatre production? This program features experience a Broadway Show matinee, lessons in acting techniques, a theatre performance lab, and classes in singing, audition techniques, and more. Director John Giresi is in his 28th year as Director of Musical Theatre Production at Fair Lawn High School and has directed over 250 musical productions in the tri-state area. Click here for Immersives details and register today!
Leadership & Community Service is for Grades 7-10. Offered all 6 weeks of SC 2019, this Immersive teaches students how to be better communicators, build a team, improve public speaking skills, learn how to apply effective leadership skills, and more! Click here for Immersives details and register today!
Media Production is for Grades 5 – 9 (July 1-3, 2019). Students will work in collaborative teams in front of the camera and behind the scenes, learning all aspects of video production including development, writing, shooting, animation, and editing. Click here for details and register today!
Wall Street and You is for Grades 5 – 8 (July 22 – 26, 2019). In this one week Immersive, students will learn the basics of Wall Street, including what stocks are, why markets fluctuate; play an interactive game where you invest in stocks in real time; and take a trip to NYC to observe high-stakes finances in real life. Click here for Immersives details and register today!
Discoveries & Adventures Open Doors to New Worlds
D-E 360° Summer Connections' Discoveries, Adventures and Junior Summer Day Camp programs are for students who will be entering Preschool (age 3) through Grade 4 in Fall (September) 2019.
Our programs offer age-appropriate activities that are carefully designed so that every child has a chance for observation and discovery. Academic courses include Math, Language Arts, and Science. We also believe that creative endeavors should be a part of a young child's life. As a result, performing and visual arts like music, dancing, painting, and storytelling constantly find themselves in the curriculum. To balance these activities, physical exercise in the form of physical education and recess are also included in the schedule. Dedicated faculty and an animated staff complete the picture for the Lower School Programs by providing the children with a safe and fun atmosphere where children of all ages can grow!
Adventures & Discoveries 2019 Theme
Our theme for the D-E 360° Summer Connections (SC) 2019 season is ️Keys: Opening Doorways to New Worlds. Campers in Preschool age 3 through Grade 4 in the Discoveries, Adventures, and Junior Summer Day Camp programs will 'open doorways' to experience and explore different worlds, as follows:
WEEK 1:  Our World Today (Transportation & Structures);
WEEK 2:  Our Natural World (Animals & Plants);
WEEK 3:  Our World Before (Prehistory, Dinosaurs, & Ancient Worlds);
WEEK 4:  Our Future World (Technology, Coding, & Innovation);
WEEK 5:  Our World Beyond (Space & Solar Systems); and
WEEK 6:  Our Fantasy World (Fairy Tales, Magic, & Myths).
With an abundance of hands-on learning activities as well as on-campus and off-campus field trips, we will inspire curiosity. Our fun learning experiences will build foundations for literacy, creativity, and academic exploration. Equally important, our campers will master life lessons from their time here with us: 1) the meaning of cooperative work; 2) the impact of the past and how culture and technology have played roles in today's world; and 3) a sense of wonder such that they develop a lasting appreciation of all our worlds – real and imagined.

The post D-E 360° View: Summer Notes Edition appeared first on D-E 360.