By Sharon Keigher, ACE Program Director
Welcome to a place in the Lower School where the Queen may be the most powerful player in the land and where you can capture a King with brainpower alone. Welcome to the Chess Club offered through D-E 360° AfterCare & Enrichment (ACE)!
Each Wednesday, a group of curious young intellects arrives after school at the ACE "Clubhouse" to refine their skills with help from their coach, Saudin Robovic, founder of ACE partner organization NYChessKids, and a true chess master with a ranking of 2395 from the Fédération Internationale des Échecs (FIDE) or World Chess Federation.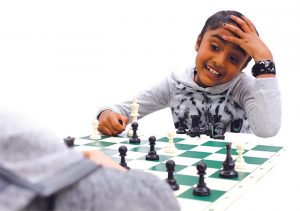 The training is serious and focused, featuring the fundamental aspects of chess, including analysis, visualization, calculation, and strategy. The competition is embraced and enjoyed. The first official ACE Chess Tournament this academic year in early December attracted approximately 20 students ranging from kindergarten to Grade 5. While there was no coaching permitted during the matches, students were allowed breaks between matches, during which they could discuss game play, have lunch, and visit with their parents. It was a wonderful introduction to the competitive nature of tournament chess. Because the event was sanctioned by the US Chess Federation (USCF), including having a USCF official present to ensure all tournament protocols were followed, each student became a member of USCF and received a ranking upon tournament completion.
With their rankings, students can participate in all local tournaments, including those in all five Boroughs of New York City. Meanwhile, ACE is planning a Family Chess evening and another weekend tournament later this year. Registration for Chess Club remains open. For questions about the Chess Club and ACE programs in general, visit de360.d-e.org or call 201-227-3144.