Fall 2022 Sports Teams Overview
Bulldogs fans had plenty to cheer about this Fall 2022 sports season. Starting their scrimmages, games and meets in the sweltering heat of early September and finishing in the chillier temperatures of late November, our student athletes demonstrated grit, perseverance, and sportsmanship, when playing both 'home' and away.
Below are highlights from many of our fall teams' seasons and the records for each of our Fall 2022 sports teams in the Middle and Upper School Varsity and Junior Varsity levels. 
Cross Country ran at Bergen County Groups. The Varsity Boys' Team medals all together placed the Bulldogs in 3rd place, and the team finished the season at 6-4. Uma Rajan '24 placed 5th for Varsity Girls.
In Girls' Varsity Soccer, the team earned the #7 seed in the NJSIAA State Girls Soccer Tournament, and Sammie Moncion '24 was listed as a Player to Watch by NJ.com!  Alexa Cohen '23 also scored a hat-trick in the team's 6-1 victory against Elmwood Park. The Bulldogs ultimately earned 1st place (Champions) in their division.
In Boys' Varsity Soccer, the team received the #4 seed in the NJSIAA State Boys Soccer Tournament. The Bulldogs also earned 1st place (Champions) in their division.
Girls' Varsity Tennis were seeded #7 in the NJSIAA State Tournament. The Bulldogs earned 1st place (Champions) in their division.  Radha Munver '24 first singles player, won nearly all of her matches, including two of which went to the third set and lasted two and a half hours each. Our first doubles team, sisters Ella Siew '24 and Sydney Siew '26, won against Blair Academy in a grueling three set match. In the words of their coach, "They were down one set, won the second set in a tie break, and crushed it in the third set!"
Varsity Field Hockey lost in the preliminary round of the BCWCA Field Hockey Tournament, but played a great game against River Dell 3-2, with 2 goals scored by Emma Leifer '23. In that same game, goalie Beatrice Gouverneur '23 had 16 saves.
Varsity Volleyball earned the #15 seed in the NJSIAA State Volleyball Tournament and ultimately earned 4th place in their division.
GO BULLDOGS!!!
Editor's Note: Find all current season sports teams' schedules, rosters, and more, online! Scan the QR Code or go to:
d-e.org/athletics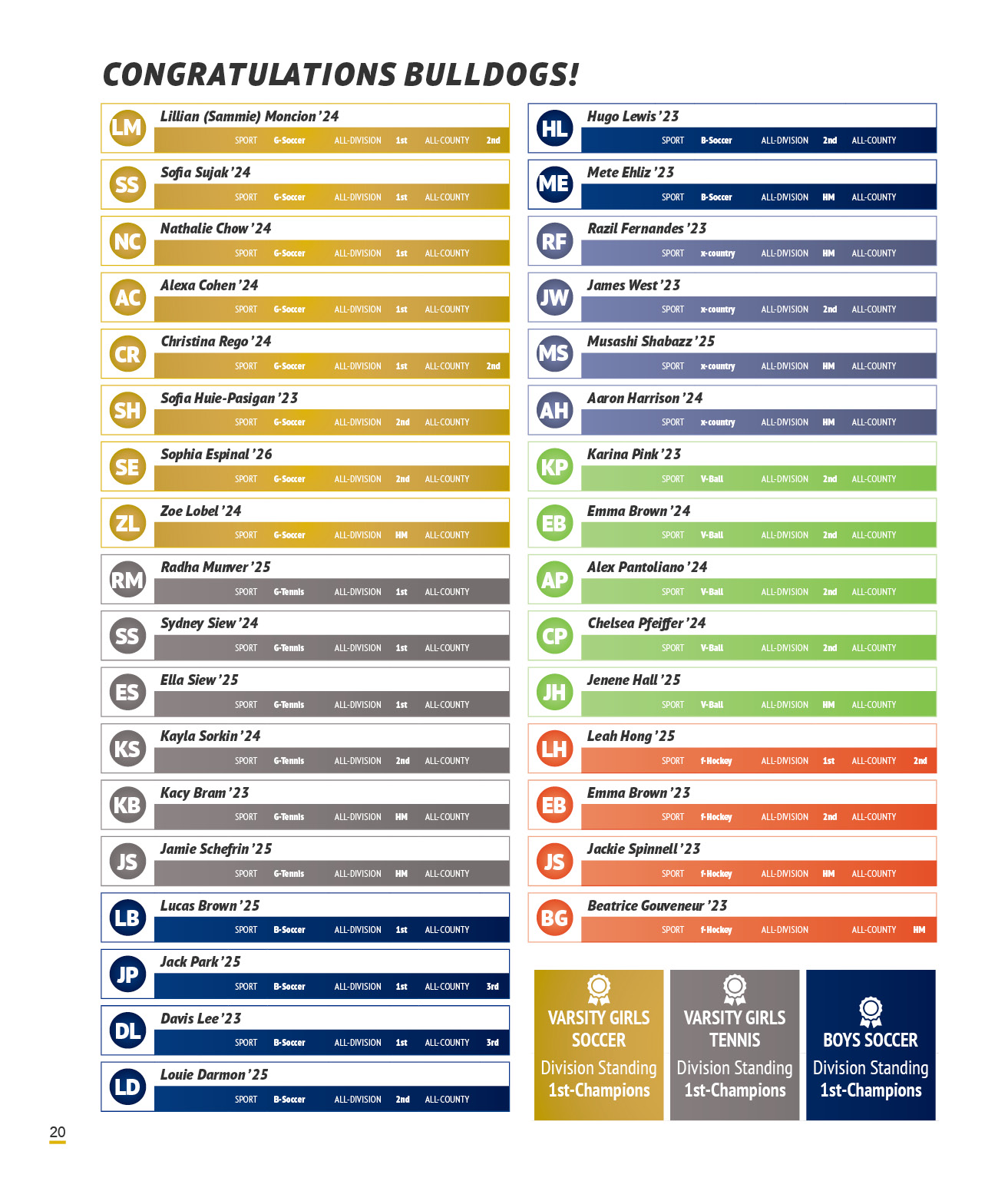 Middle School (MS) Fall 2022 Sports Team Records
MS Girls Tennis: 7-0.
MS Girls Soccer:  2-5-2.
MS Boys Soccer-White: 7-1.
MS Boys Soccer-Blue: 7-1-2.
MS Ultimate Frisbee: 3-2.
MS Volleyball: 5-6.
Upper School (US) Fall 2022 Varsity and Junior Varsity Sports Team Records
Varsity Boys Soccer: 10-9.
Varsity Field Hockey: 3-12-3.
Varsity Girls Soccer: 8-6-2.
Varsity Girls Tennis: 14-3.
Varsity Volleyball: 11-12.
JV Volleyball: 15-3.
JV Field Hockey: 3-6.
JV Boys Soccer: 8-2-2.
JV Girls Soccer: 4-2.
Freshman Boys Soccer: 0-6-1.