By Fiona Cohen '19
D-E students reveled in an extra special Spirit Week this year, one that involved both fun competition and fundraising for an international aid organization with far-reaching impact. All three divisions of the School participated in events to support the work of Save the Children. Spirit Week Chair Emily Nebens '19 rallied fellow students at the week's kick-off assembly, remarking, "As a school, we want to contribute to places devastated by recent natural disasters such as Hurricane Maria. Let's make our most fun week of the year become our most giving week of the year!"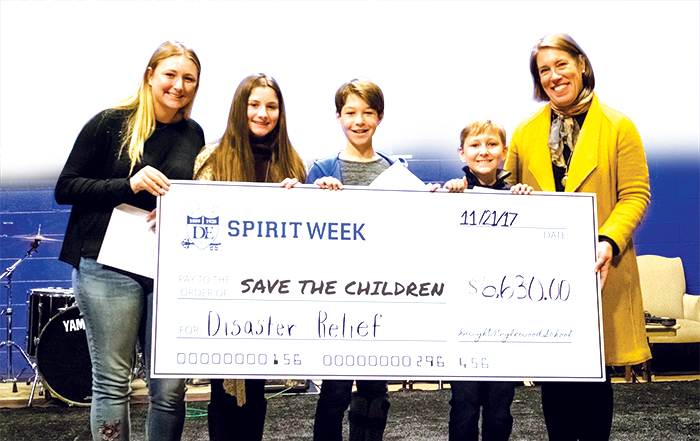 The Spirit Week fundraisers were spearheaded by two student-run organizations, CODES (Community Outreach at D-E) and TCC (Teens Connecting Communities). In the Upper School, students raised money through the sale of class-specific bracelets and through Coin Wars between the grades. Daily lunchtime competitions included relays and soccer games between the grades and with faculty and staff. A Food Truck Friday event with specialty ice cream vendor BonaBona rounded out the week. In the Middle and Lower Schools, students similarly participated in Coin Wars and organized drives to collect food, paper products, and more.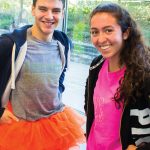 "Spirit Week at D-E was designed this year to unite the entire school in an effort to help those who are most at risk in times of tragedy," stated Director of Student Activities and Community Service Debbie Rivera Murphy '11. "The week was emblematic of our mission statement which speaks to 'making it better.'"
At the end of the week, the Class of 2018 took first place in the competitions, but Save the Children was real winner, thanks to a grand total of $6,630 raised by the School, a new record for Spirit Week monetary donations. D-E students from each division presented a larger-than-life-sized check to a representative of Save the Children during the annual All-School Thanksgiving Assembly. To watch the check presentation, see below.