BERGEN SCIENCE CHALLENGE 2020-2021
The Bergen SciChallenge, hosted by the Bergen County Academies, is an annual middle school science fair (grades 5-8) affiliated with the national science fair, the Broadcom Masters! The challenge encourages projects from lab-based experiments to kitchen counter lab work! The mission is to encourage today's youth to think inquisitively, develop critical thinking skills, and, most importantly, understand that they have the potential to make the world a better place through their research! Our D-E Bulldogs did an astounding job this past year for the BSC, and we're so proud to see all that they've accomplished. Take a look at how our bright-minded students stood up to the challenge. Go, Bulldogs!
DANIELA DELYUSTO '25, "ASSESSING THE EFFECTIVENESS OF DNA EXTRACTION TECHNIQUES USING qPCR"
Daniela Delyusto '25 conducted an experiment entitled "Assessing the Effectiveness of DNA Extraction Techniques using qPCR."  She tested whether inexpensive methods of DNA extraction resulted in sufficient amounts of genetic material when compared to the results of expensive commercial kits.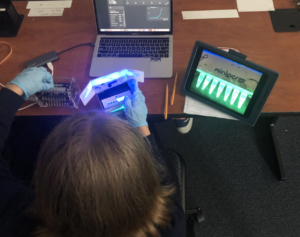 Hudson Guzman '27 & Sylvie Yao '27, "THE EFFECT OF ALTITUDE ON UV EXPOSURE"
Hudson Guzman '27 & Sylvie Yao '27 conducted an experiment entitled "The Effects of Altitude on UV Exposure."  They tested whether a balloon flown at 400 feet would have a measurably different UV exposure than one at ground level.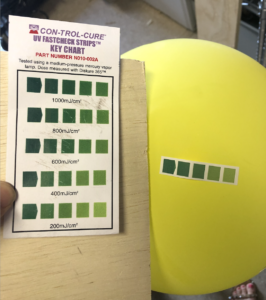 1ST PLACE IN BSC CHEMISTRY: JASON LEE '27,  PHILIP LEVINSKY '27, & TEO BRAUN '27
Congratulations to Jason Lee '27, Philip Levinsky '27, & Teo Braun '27, who placed first in Chemistry at the Bergen SciChallenge with "The Effects Percent Composition of Water by Mass on the Popping Rate of Popcorn Kernels".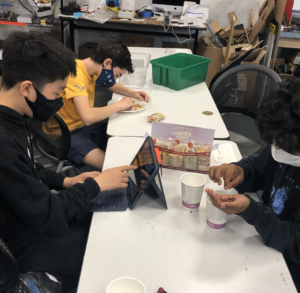 ANDRE VALENCIA '27, "THE EFFECTS OF UV RADIATION ON STRAWBERRY DNA"
Andre Valencia '27 experimented and investigated how UV radiation affects strawberry DNA!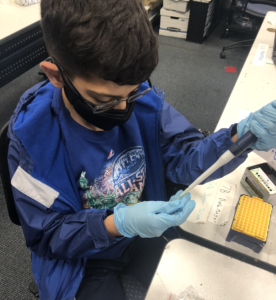 AUSTIN KIM '26, "THE EFFECTS OF TEMPERATURE ON OXYGEN CONSUMPTION IN TARDIGRADES"
Austin Kim '26 did research on tardigrades also known as "water bears". Tardigrades are small micro-animals that have been shown to survive in outer space! Thus, Austin investigated how tardigrades adapt and perform under different temperature conditions.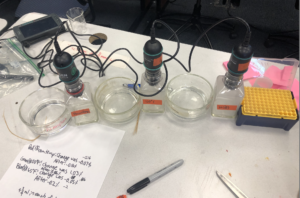 PRISHA VORA '27, "SOLAR-POWER CHARGER, LOGITECH CRAYONS"
NELLIE TISHLER '27, "COMPARING COMMERCIAL AND NATURAL FERTILIZERS ON BEAN PLANT GROWTH"
Nellie Tishler '27 did a comparative study on different fertilizers' effects on bean growth-a very real and important study for gardeners, botanists, and hobbyists alike!