D-E's Swartley Gallery fall and winter exhibits have included works by a caricature master, a jazz singer and painter, and a multimedia artist who is a D-E graduate.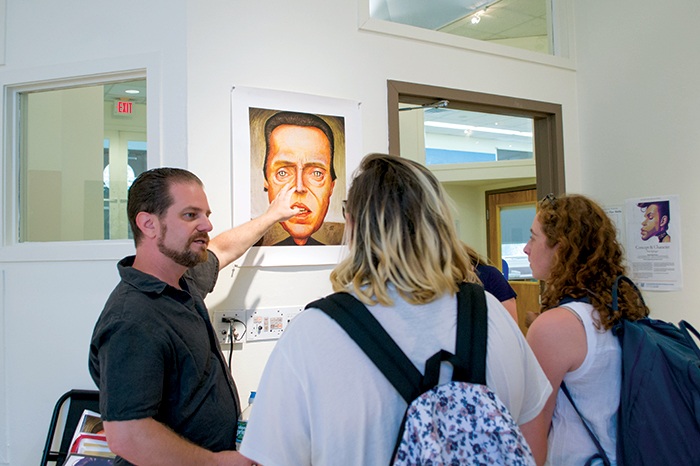 Painter and caricature artist Dan Springer was featured in "Concept & Character," an exhibit in October of both conceptual acrylic paintings and sophisticated caricature work. The faces and profiles of rock stars Prince and David Bowie, actor Christopher Walken, and other popular culture icons were included in the pieces on display. Springer has shown his work at numerous galleries and clubs, including the Ace Gallery, the Gershwin Gallery, The Tunnel, and Rumours (located at 8th Avenue and 55th Street), where he has a permanent exhibition. He has done live caricatures for restaurant patrons at Faces and Names since 1997 and has been making a living on commissioned caricature paintings and freelance illustration projects since 1999. For more information about Dan Springer, visit www.danspringer.net.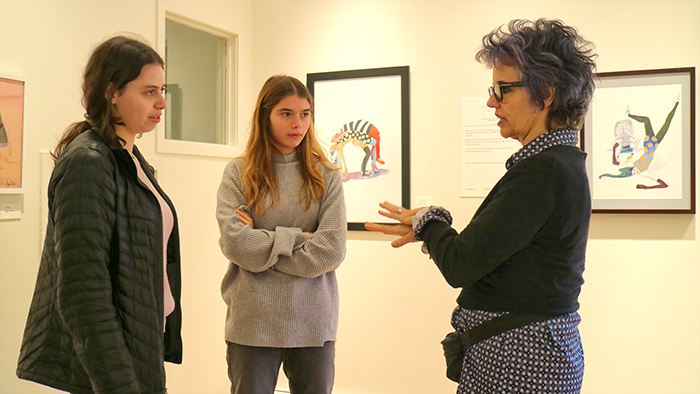 "Unconditional," an exhibit featuring gouache paintings on paper by artist and jazz vocalist Lynn Stein, was on display in Swartley Gallery through November and December. Stein was able to meet with D-E Middle and Upper School students during a lunchtime Artist Talk, speaking of her background in art curation, the power of creativity, and collaboration. From 2001 to 2016 she was the artistic director and curator for ROCA, the Rockland Center for the Arts in Rockland County, NY. Stein is also a jazz vocalist and can be heard regularly on the Jonathan Schwartz program and the Johnathan Stream/WNYC-FM. Follow Stein on Instagram @lynnmariestein, or visit www.Lynnstein.org or www.lynnsteinvocalist.org.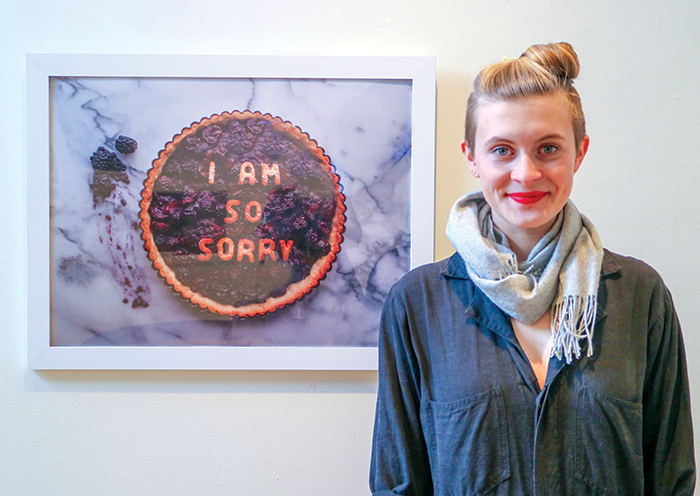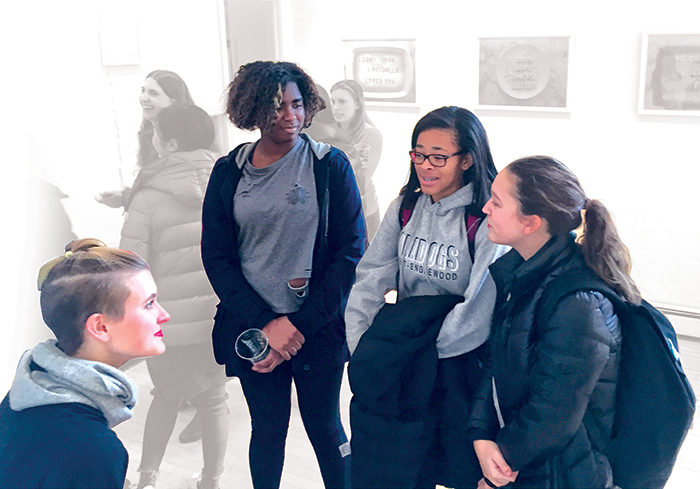 Alumna Isabella Giancarlo '10 shared her multimedia talents in an intriguing January exhibit called "Eat Your Heart Out" (EYHO), the opening of which included several "meet and greets" with an appreciative audience of D-E art students and faculty and staff members.
EYHO combines sweet, handcrafted cakes and pies made and photographed by Giancarlo with bitter break-up lines embedded, imposed, or carved into the desserts. The Instagram-based series gained more than 10,000 followers within six weeks of launching and has attracted international recognition from outlets such as The Huffington Post, ABC's The Chew, Buzzfeed, Jezebel, Cosmo, The Daily Mail, Food & Wine Magazine, and more. A special edition piece was created for the Museum of Broken Relationships in Los Angeles.
Giancarlo's work on display also included "Sand Paper Doll," a sculptural installation, and a provocative "Predictive Poetry" piece. Giancarlo explained, "iPhone keyboard prediction uses text that the user enters over time to build a custom, local 'dictionary' of words and phrases the user has typed repeatedly. In this personal exploration, through use of my phone's predictive keyboard, I've crafted poems by letting my iPhone suggest the next word. This method, both personal and impersonal, creates poems that are bad, bizarre, tender, mundane, and, at times, just right. I've made a series of short videos showing the process of creating predictive poems that emphasize the serendipity and absurdity of the process, perhaps inspiring the user to consider the ways in which we change our devices and the way our devices change us. Each piece leaves the poem's author ambiguous: did the phone write the poem or did the user?"
Follow Isabella on
instagram.com/eatyrheartsout
or visit www.isabellagiancarlo.com